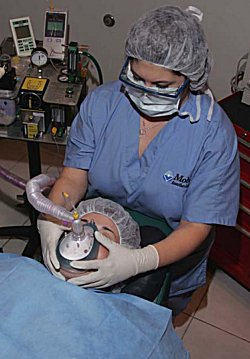 So I had oral surgery on Friday to remove all my wisdom teeth, and I went under light general anesthesia for it. I'd never been anesthetized before, and it was kind of a freaky experience! I wanted to write down what I remember since my memory of the experience is already sort of fading.
I laid down in the chair, and they started me off with nitrous oxide, aka laughing gas. Oh, that's not me in the picture, I just bing-ed anesthesia. Haha. After a minute or so of breathing in the N2O, I said to the doctor, "I don't feel anything." Then it hit me.... my toes started tingling, and I felt like I was kind of floating. "Oh there it is...." I said.
I felt him insert the IV into my right arm, but it seemed like it was happening far away, and didn't really matter. Jess was allowed in the room with me until I was asleep, so I waved to her and said "Bye Honey!" I was mostly kidding around, and I thought I'd be awake for a bit longer, but that's literally the last thing I remember.
The next thing I know, the doctor and nurses are cleaning up the tools, and talking amongst themselves. I remember thinking.... "Shouldn't they be getting ready to do this, not chatting and packing everything up?" Turns out it was all over!
Apparently Jess and I walked out to the car after that, but I don't really remember walking out there. We also stopped at the pharmacy on the way home, and I waited in the car. I don't really remember that either. I spent the rest of that day replacing the gauze in my mouth, and recovering. I don't remember a ton about that day either.
The whole experience wouldn't have been that bad at all, if it weren't for my reaction to one of the pain meds they gave me.... I tried taking the hydrocodone twice, but tossed my cookies each time afterwards. Haha.... then I just decided to stick with the ibuprofen. I was never really in much pain anyways.
I'm 3 and a half days post-op, and feelin' pretty good. My face is still a little puffy and sore, but it's feeling better every day. I should be back to normal completely in another couple days.
I still can't get over how effective the anesthetic was. I expected to have some sort of vague memory of what happened.... but NOTHING. I'm a pretty light sleeper, so I'm used to having some sort of awareness when I'm asleep, but this was WAY more than sleep. Anyways..... anyone who's ever been under knows what I'm talking about.
I'll always choose general anesthesia over major pain!
J.