As you may or may not know, I've had some troubles with US Immigration over the last few months...
I am so excited to be able to say that God has come through.... just in the nick of time! Now that things are pretty much wrapped up, I wanted to share the story with you..
Back in 2008, Jess and I got married, and at that time I filed paperwork with USCIS (United States Citizenship and Immigration Service, formerly INS) to become a permanent resident of the United States.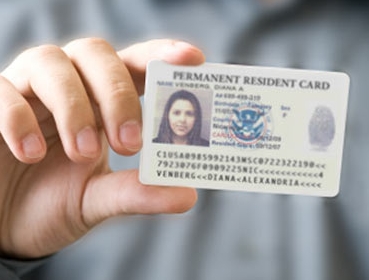 It's commonly called a green card, but as you can see from this picture, it's not actually green! In any case, the paperwork took about 4 months to process (pretty quick for USCIS), and I was now a permanent resident of the United States of America.
The only catch was that because this green card was based on a
recent
marriage, the first one would only last two years, at which point they would require proof that Jess and I are in a continuing, legitimate marriage in order to issue me my final 10 year permanent resident card. So, last September, I filed the necessary paperwork to prove that our marriage is legitimate, and get my final 10 year card.
The process was supposed to be relatively simple. They would send me a letter telling me when to go get my biometrics taken (fingerprints and photos), and then they would make a decision about my case, and I'd be good.
Well, I waited for that biometrics letter for
months
. I had no idea that it was only supposed to take a week or two to receive... lots of things take a long time with USCIS. Finally I did receive a letter from them, in late January... but it was
not
the letter I had been hoping for. The letter said that my application was denied because I failed to appear at a biometrics appointment. Also, all status in the US was revoked, and I was no longer legal to live and work in the US. It was a pretty strongly worded letter, and it came as quite a shock!
I came to the conclusion that the biometrics letter had been lost in the mail. It turns out that USCIS sends all their correspondence by regular mail... no tracking number or anything. If it gets lost.... well, too bad. That seems pretty negligent to me, but I can't
make
them do that differently. I had 30 days to appeal the decision, which I did... and in my appeal, I sent in all kinds of evidence regarding my mail situation. It's difficult to prove that you
didn't
receive something, but I did my best.
(The letter in this photo is a DIFFERENT letter from USCIS. This one was not lost in the mail, but only HALF of it made it to me! Thanks USPS!)
I figured that this whole situation would be resolved eventually, and that everything would be ok... but I was worried about this trip to Australia that we had planned for early April. Knowing USCIS, I had little hope that I could get this resolved by then. So, I called a couple of immigration lawyers, and sought their advice... They were somewhat helpful, and made me feel a bit less stressed, but the phone call that REALLY made a difference was the next one. I called a local Senator's office, and made contact with an aide there.
Over the coming weeks, this Senator's aide and I stayed in touch every few days. She had the ability to simply call up the office where my case was processing, and make requests about it. Things looked hopeful, but it still seemed a little far-fetched to think this could all be done in time. The reason this mattered so much is that until the situation was fully resolved, I would be unable to travel outside the US, because I would not be permitted back in. Also, any appeal I had in the system would be considered abandoned if I left the country.
Well, last friday, I got word that my appeal was approved. This means that my case was re-opened, so it was great news, but there was still so much to do! Within a few hours, I wrote a letter requesting expediting for my case, and it was approved. I got a call that I could go and get my biometrics done THAT DAY. I rushed over to the office to pick up the necessary forms, and then sped over to the government building where biometrics are taken.
Then, about two days ago, I received word that my final permanent resident card was approved... less than a week before our trip to Australia. Honestly.... praise Jesus! What a relief! There's no way this would have happened in time without the help of Senator Alexander's office. They were incredibly helpful!
It's now hitting me that I'm going to Australia in just a few days.... I can't wait!
So I wanted to share this story with you as a testament to God's faithfulness. I don't entirely understand why He does it, but He
loves
to come through
at the last minute
! Maybe it's to build faith (it works)... I can honestly say without a shred of doubt that God had his hand on this entire situation...
Well, Australia.... See you in a couple days!
Jonathan